Two Eight Ceramics official video center is officially launched!
With the rapid development of multimedia, ordinary users are no longer satisfied with pictures and text content. Video is becoming more mainstream as a more direct, media-heavy media. Although Two Eight Ceramics is a company established in 1998, we never lag behind the trend.
Now I would like to introduce to you our new member of Two Eight Ceramics: Two Eight Ceramics official video center. There are several considerable improvements in the Video Center and the traditional official website.
1.Video display:
Almost all products, the presentation of consulting has been upgraded from text and pictures to video display, which significantly saves users reading time, and more information can be obtained more directly at the same time;

2.More friendly mobile support:
Today, more than 70% of customers are searching for orders through mobile devices. To keep up with this trend of mobile terminal development, the video center has made targeted optimizations on mobile terminals to make mobile phone client access smoother. All marketing must be based on good user experience.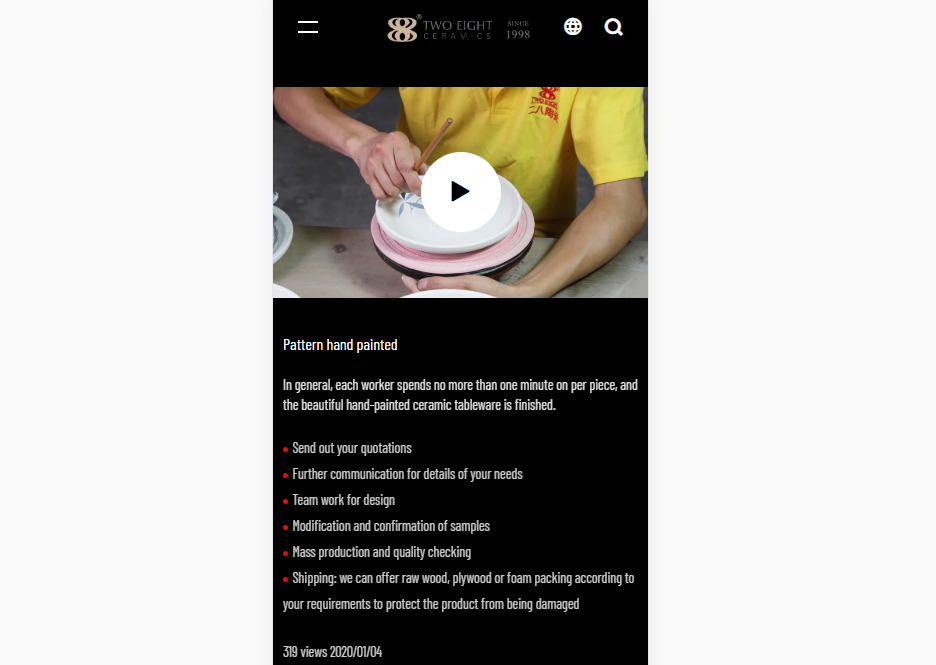 3.Easy but not simple
Two Eight Ceramics official video center is optimized for video, which simplifies many of the burdensome functions inherent in traditional official websites. On the one hand, it reduces the size of content loaded by users, saves traffic and speeds up access; on the other hand, it reduces interference items and makes users You can get the information you need more directly.

I won't introduce too much at the end, and please experience it for yourself: Two Eight Ceramics official video center.